2016. Youth housing, Santomera, Murcia, Spain.
Youth Housing. Santomera. Murcia (2016)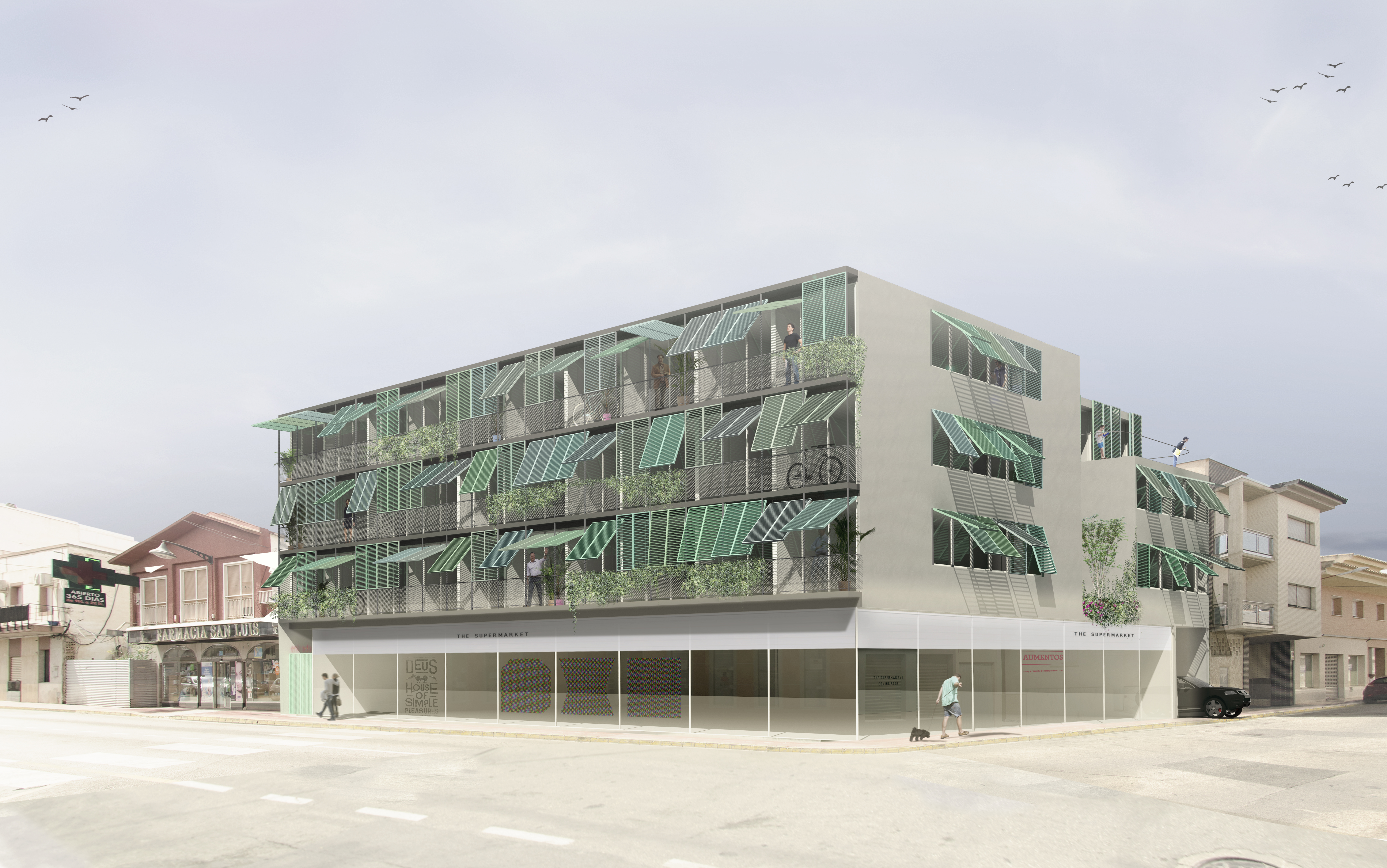 Main facade
Santomera is a small village near Murcia. It has a population of 15.000 and its economy activity is mainly related to the exploitation of its rich and fertile crops of citrus fruits. In fact, this prosperous population centre is well known as the "limonar of Europa" because of the high productive and quality of its lemon production.
The project takes up a plot of 775 m sq. with two ninety degrees shape facades of 23 m and 28 m length. The plot is located in the middle of the old town and near to the town hall. Currently, it is the only void of a dense and cramped urban fabric. This project are to be a reference of the village as it is supposed to provide new and contemporary apartments which will house new generations of inhabitants. We hope this project will breathe life into the neighbourhood as a sign of the economy recovery that the region are suffering precisely because of the reassessment of its historical and natural resources.
Site in green
The building houses 20 apartments in two blocks of a three floor complex. A huge courtyard will bring air and sun into the apartments which will refresh and illuminate the daily life of their dwellers. Covered, an open corridor each floor will be constantly in touch with this alive community and sharing space.  In the meantime, the street façades are thought to be regulated with slatted shutter and adjustable panels. This basic mechanism will provide to users to regulate their intimacy and relationship with the outdoors urban ambiance. Plants might grow in this partitioned sharing façade balcony, as well.
The ground floor in all their extension will be able to be used as an open plan supermarket of 700 m sq. or as smaller neighbourhood stores and offices.
The parking in the basement will get from outside natural ventilation and light through strategic patios. Clients and neighbours will park their cars in an adequate and well-equipped subterranean urban space.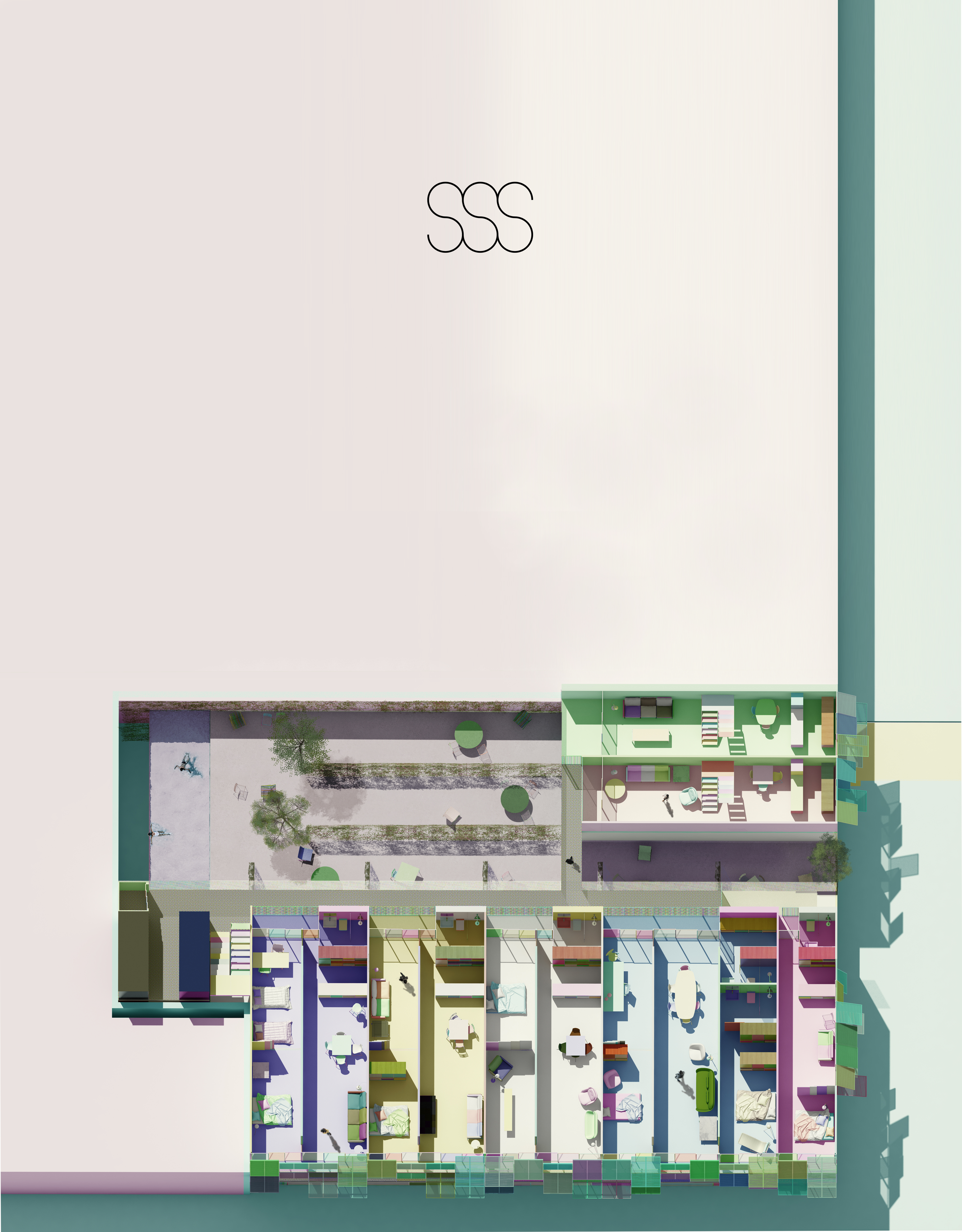 Housing plan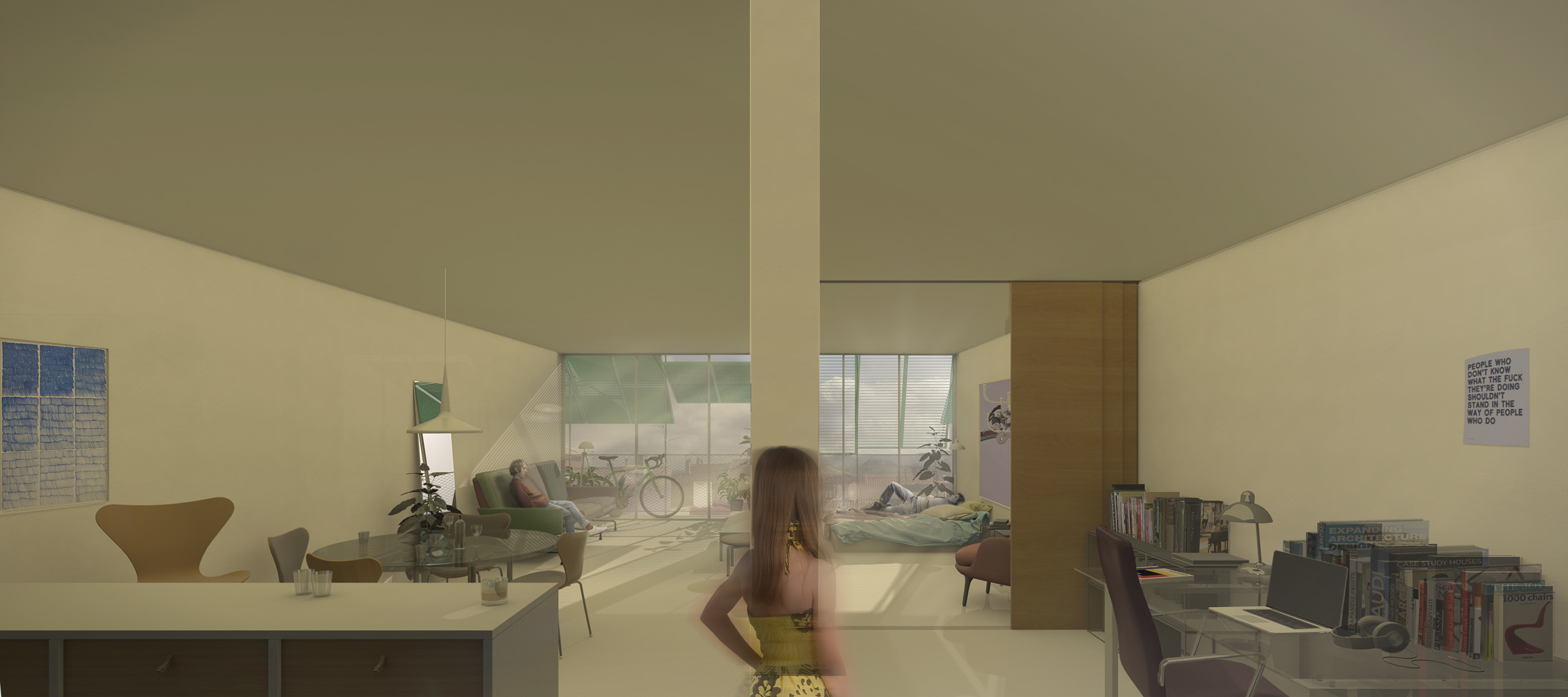 Interior apartment
The apartments are mainly formed by two flexible spaces:
The living area is a unique space that looks over the street. There, an open kitchen takes advantage of the perspective of the main façade. Cross ventilation is guaranteed thanks to opposite openings in each façade.
The sleepy space is directly in touch with both facades and can be occupied as users prefer. It might be a huge bedroom for a couple or a two-bedroom space for a family with kids. A sliding cross wall just in the middle will allow them decide according to their needs and preferences.

Apartment
The plot
Slatted shutter and adjustable panels reference by Spanish architect Antonio Bonet Castellana. Project: Complex housing in "La Manga", Murcia.